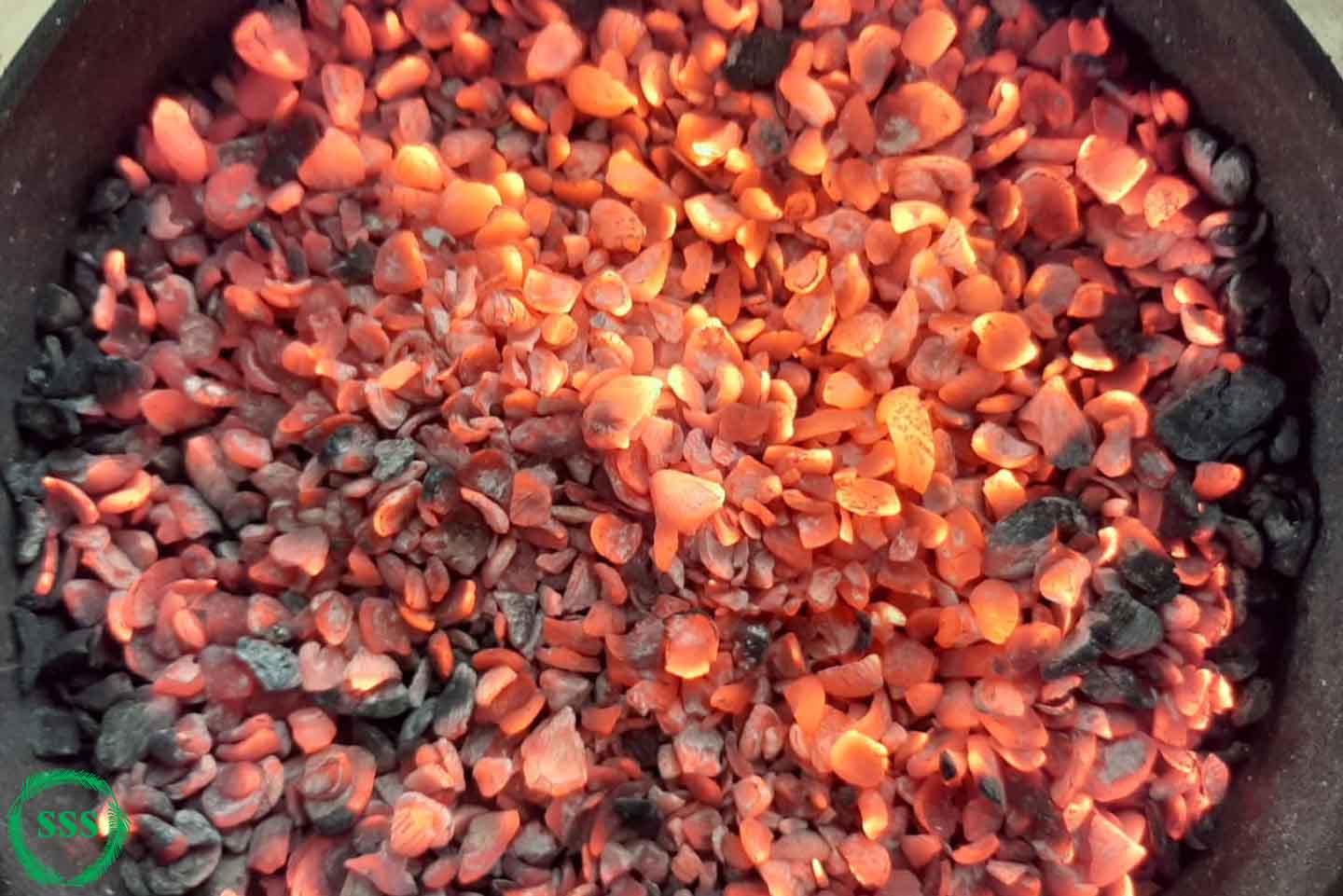 Introduction
Palm Kernel Shell (PKS) is part of the palm fruits lying between the palm fruit flesh and the Palm Kernel (PK). After Crude Palm Oil (CPO) has been extracted from the palm fruit flesh in the initial stage of Palm Oil Mill processes, PKS covering PK in intact form are sent to next phase of cracking and separation between PKS and PK. PKS has a dark brown color in nature.
Brief History
Palm Kernel Shell used to be categorized as by-product within the chain of Palm Fruit processes, as the main intended products are CPO and PK, which actually have commercial values. However, as time goes by, and awareness of sustaining the environment condition and combating global warming awareness arise, PKS has slowly been considered as replacement energy of steam coal. Since early 2000, vast majority of Indonesia factories operating with the use of steam boilers have slowly shifted to the use of Palm Kernel Shells instead of steam coals.
Description
Palm Kernel Shells sizing and thickness can range from one place to another depending on the origin of the Palm Fruits and the breed that the Palm Oil Mills acquired. Three types of palm breeds in Indonesia:
Pisifera (Little to none PKS Content)
Tenera (0.5mm thickness to about 3.5mm)
Dura (2mm thickness to about 6mm)
Quality
We have always delivered the highest quality PKS possible to all of our customers.
Our standard of PKS can be categorized into:
1. Untreated PKS
Untreated PKS are obtained from Palm Oil Mills being delivered straight to end users without undergoing any treatment to reduce any unwanted content. Such quality PKS is much cheaper in cost wise, however, consumption could be more due to wider range of PKS sizing and thickness and also presence of other foreign objects, and in long run servicing of the steam boiler is required much more often
2. Treated PKS
Treated PKS is the higher quality of PKS, which have undergone quality control to ensure much lesser presence of foreign objects, much lower moisture content and smaller range of PKS thickness differences.
Treated PKS quality is obtained by initially delivering the PKS obtained from Palm Oil Mills to our treatment plant, and then after undergoing the treatment plant, the treated PKS are then delivered to our customers.
After going through treatment, the quality of PKS will improve by parameters such as:
Smaller Range Shell Thickness
Moisture Content
Sulphur Content
Ash Content
Volatile Matter
Fixed Carbon
Impurities
Gross Calorific Value
During the progress of delivering the PKS to our customers, aside from our own laboratory measurement, we always get the help from independent certified third party companies to perform sampling on each and every lorry we delivered to our customers, and upon completion of sales contracts, the particular company would provide us with the laboratory report of our average quality of PKS delivered to certain customers. This step is taken to ensure the quality of PKS delivered to our customers reaching the quality as stated in the agreement sales contract.
Supply
With the support and good relationship of Palm Oil Mills across our operational presence, we always manage to secure quantity of PKS ranging between 50,000MT up to 75,000MT per month.
Monthly PKS breed supply can range between 60% of Dura breed and 40% of Tenera breed, and up to 75% of Dura breed and 25% Tenera breed.
Gallery